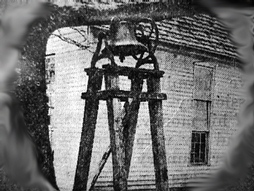 I ran across the picture while researching the history of the church and wondered what had happened to the old bell.  No one seemed to know.

Ann and I were visiting a friend in the hospital one day and noticed under the limbs of a large evergreen tree out front a bell.  There was no sign of identity.  Asking around, I discovered that this was the old church bell.  The hospital had been built on property once owned by the Chairman of Deacons of the church.  When chimes were installed in the church steeple, the old bell was deemed surplus.  Mr. Puett took it home, and there it had stayed for some forty years, through all sorts of weather, sale of the property,  and construction of the hospital. How he got it home remains unknown for it weighed over 500 pounds, but that is probably why it was never bothered.

I got permission from the hospital to reclaim it for the church and spent the next few months restoring it.  The clapper was gone, as was the rope wheel, and the
bearings on which it swung were rusted away.  With a lot of help from other men at the church, we finally got it mounted on a platform similar to the one it originally sat on.  It was rung for the first time on the day our new pastor, Dr. Rudy Patton, was announced, and a plaque was added that tells some of the bell's history.


A bit of history preserved.  Below is the bell as it appears today.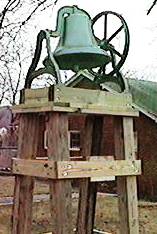 In 1923, this picture appeared in The Christian Index, the official Georgia Baptist news bulletin.  It was a picture of the old church bell beside the Hiawassee Baptist Church on River Street in Hiawassee, Georgia.  The church had long since moved to a new location and adopted a new  name, McConnell Memorial Baptist Church.